Should your staff member have an understudy?
 By: Molly Pensyl, Business Development Manager 
Should your staff member have an understudy?
In theater, cast members with important roles often have an understudy. Someone who learns their role and lines in order to fill in for them or replace them on short notice. They've really been on to something in the theater world all this time! Now Holbrook & Manter is taking a page from their book and our valued clients are benefiting.
We call it Staff Shadowing, and if you stop and think about it, it's an investment all businesses- no matter what the size- should make just in case a key team member like an accountant, a bookkeeper or a CFO steps away from their role for any length of time. Staff Shadowing involves our team learning and documenting the actual specific tasks of your current staff so we are able to step in and immediately begin to perform their duties if they must leave.
Many business owners think that they will just rehire should this type of scenario play out. Sure, this is a solution- but it's not that simple. What happens in the interim? Who will train the new person? Will your business continue to run at the same rate it does today while this new person gets up to speed? To dig even deeper- do you know all the needed passwords your accountant knows for conducting business with your bank and other partners? Do you know when certain bills are due and how to run payroll? What about tax preparation and reporting?  The list goes on and on.
Instead of the business owner trying to learn and execute each task AFTER the person has left their role; bring in our Business Services and Solutions Team NOW to learn the ins and outs of the valued positions that keep your business running smoothly. If someone goes on medical leave, we can step in right away and begin doing their work. If your team member retires, we will be there to do the job. We can even help train their replacement when you bring them on board. Although, many of our client go on to keep H&M on board as the accounting solution for their business.
Staff Shadowing also usually results in our team finding more efficient ways for certain tasks to be carried out. What takes your current staff several hours to do, we might be able to execute in a fraction of the time. As with all of H&M's services, Staff Shadowing also involves our team making recommendations for best practices that will benefit your business.
Plus, our "cast" (pictured below) is pretty talented. Who will be your staff member's understudy? Contact us today for more information regarding Staff Shadowing.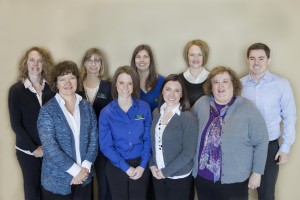 Contact Us
"*" indicates required fields
Back